Let's cover a few of the basic tools that you'll need to tear down clock movements, change mainsprings, tools for bushing a movement, etc. Of course we won't get into doing any of the actual work or operations here because the Online Clock Course covers all of that in detail.
The very first step you should take if you haven't already is to order some catalogs from a few clock tool and material houses and/or download their catalogs from their websites if they offer them as downloads. They generally charge a few dollars for a snail mail catalog which can often be ordered right from their web sites.
When discussing individual tools I'll make reference to the supply house Timesavers. It doesn't necessarily mean that Timesavers will be the best place to purchase the tool in question as there are other supply houses throughout the world. Timesavers is just considered by many clocksmiths a good trustworthy resource that many clockmakers use for tools and supplies. There are others such as Merritts  at  again, Cousins in the UK etc.
Having a few catalogs from competing companies enables you to do price comparisons and to learn who carries what. There are many clock material houses out there that you can find by punching a few keywords into any search engine.
Now for the tools. You might be surprised to find that you may already have many of the following tools sitting in your tool box. Things like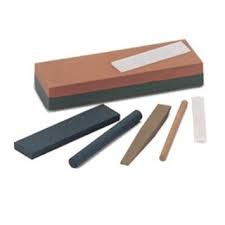 pliers, needle nose pliers, wire cutters, regular and ball pean hammers, phillips and regular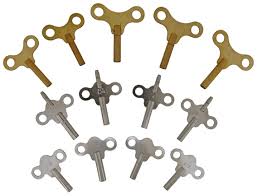 screwdrivers, files, an India sharpening stone and other ordinary hand tools are used much of the time in clock repair. Whether you realize it or not you could actually get by with the tools I just mentioned to do many of the basic repairs encountered in clock repair.
There are a few specialized tools that will make the job easier for you that are reasonably priced which we'll cover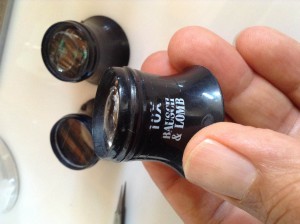 here. Most of the necessary tools and how to use them are covered extensively in the online course videos.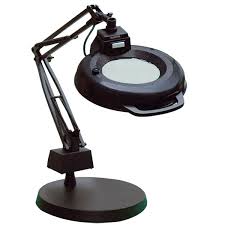 One thing that you'll use a lot is an eye loupe or some type of magnifier. You've probably seen the circular florescent lamps that are on an adjustable arm which have a large magnifying glass in the middle of it. Some clockmakers like using these.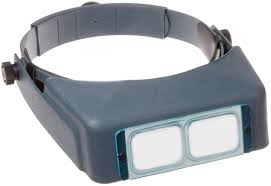 I personally prefer a simple magnifying head visor that can be flipped up and down as needed.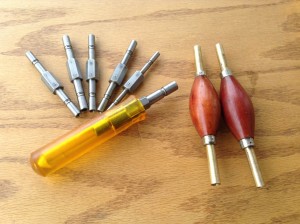 Next, you'll need some type of let down key which is used for releasing the power out of the mainsprings. You'll see in the videos exactly what these are for and a couple of different types you can use. But...you can actually make a let down key out of a piece of broom stick or 1" dowel in less than 10 minutes.
A couple of inexpensive extra long clock tweezers will be handy to have.

Three or four different grit emery sticks.

A loupe end mainspring winder (not necessary but helpful).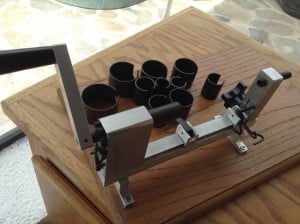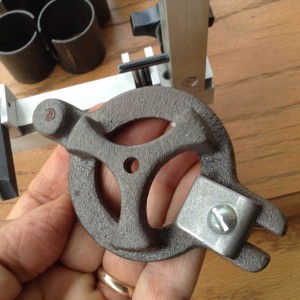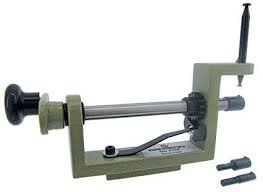 Some clock oil and mainspring grease.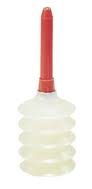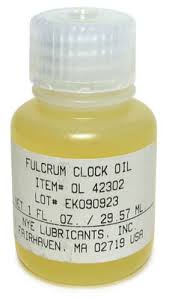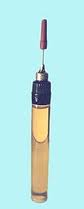 Assembly feet or posts are real helpful when assembling a movement.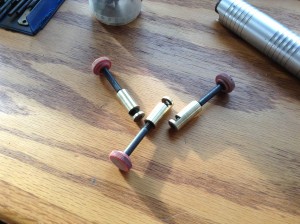 These are clamped onto the bottom plate to hold it secure while building the movement back up. These posts aren't necessary as you can also use a coffee can or cut off sections of a Quakers oatmeal box (I eat Quakers) or a Pringles box for smaller clocks but they are very handy and expensive.
Hand Reamer bushing set for bushing clock plates. TimeSavers has a nice kit.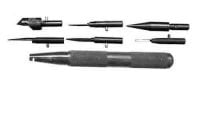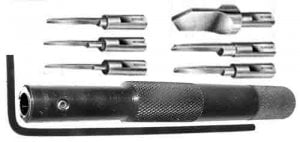 I used a simple hand broaching system
like one of these for years before actually purchasing a production bushing tool.
An inexpensive set of needle files.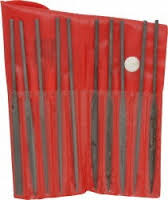 If you have a chance you might want to romp around up at the
above web sites to get an idea of all the different types of
tools and materials are available.
[ShowSalesProof ID=6][/ShowSalesProof]